Elections: The Student Perspective
Road closures. Traffic jams. Sign holders. Long lines. All a part of the crucial process that occurs across the country every four years as members of all parties rally to elect the next President of the United States. On November 2nd, 2020, polling places throughout New Hampshire braced for what most political analysts deemed to be the highest voter turnout in election day history, with hundreds of thousands of eligible voters flocked to the polls. As the only open same day polling place in Derry, Pinkerton Academy was no exception. 
The largest high school in New Hampshire, Pinkerton was well equipped to deal with the massive influx of voters, utilizing both the gymnasium and outdoor tents to house booths and registration areas. Per the academy's policy, only masked voters would be allowed inside. Anyone who wished to remain maskless was required to vote outdoors in the uncooperative weather common to the New England region. Throughout the day, prospective voters experienced a mix of snow flurries, freezing winds, and surprisingly warm moments of sun. Despite the weather, both old and new voters were determined to wait out the lines and cast their votes in what has been one of the most consequential elections to date. Mr. Balser, a member of Pinkerton's security team and a long time poll volunteer, estimated that over 2,000 people had arrived to cast their ballots by 8:45 am, with many showing up before the polls had even opened at 7:00 am. 
Among the throng were hundreds of new voters. Moran Perittie, a Pinkerton alum working as a greeter said that "Over 200 [new voters] is a rough estimate. We ran out of two stacks of paper, and there were about 100 sheets in each stack, so yeah I'd say just around 200 people registered this morning". Responsible for assisting with the resignation process, Moran stated that she had helped several Pinkerton seniors prepare to cast their first ballot as newly turned 18-year-olds. One such voter was Ryan Cassin, who had arrived at the polls early that morning to vote for the candidate he believed would best address income inequality, environment, race issues, the cost of college, and healthcare. 
"I voted because it is my civic duty as a citizen. I think I am very informed when it comes to politics. I watch the nightly news and listen to political podcasts such as Pod Save American and The Political Gabfest as well as sometimes listening to NPR. Currently, I don't feel like the current administration reflects my interests, as Donald Trump maintains power by stoking fear and creating outrage, which is not healthy and it is destroying our country."
However, not all teenagers shared Ryan's enthusiasm for voting. A survey conducted by The Launchpad Instagram revealed that 54% of the seniors who responded did not vote in the election. Some, such as a student who wishes to remain anonymous, believe that their "votes would not matter because no matter what there is no good outcome" or they hold no love or interest in politics and believe they are uninformed about current political issues. Others, such as seniors Isabella Dineen and Jawaria Ali are unable to vote, as their 18th birthdays are after Election Day, much to their dismay and frustration. 
"I'm huge on social aspects so I want to see the LGBT community be more protected. See people of color protected. See women protected." Isabella said. "If I could vote this year I would. I miss the election by just one week." 
Jawaria, who is a member of the New Hampshire Youth Movement, a group dedicated to electing candidates who will support liberal policies, explained her desire for the voting age to be lowered to 17. 
"With youth turnout being a record high for this year's election, it gives me hope that we can change the stigmas surrounding young people. There is definitely a disconnect between our generation and the older one, and I think that the more we close that gap and build a bridge, the more older individuals will value what we have to say and our perspectives. From my experience, many older individuals are generally shocked when I talk to them urging them to go out and vote or to educate them on an issue and present my opinion when I myself can't even vote. I think our generation has been labeled as more carefree than past ones, but in reality, we really do care and have a lot to say, both on things we have experienced or things we see people we care about experience. I believe that lowering the voting age would serve to better give a voice to many who feel voiceless." 
Despite her ineligibility to vote, Jawaria and the rest of the New Hampshire Youth movement spent the week leading up to the election making hundreds of phone calls, encouraging those able to vote to do so, hosting panel discussions, and volunteering at polls on election day. The high school chapter alone, of which many Pinkerton students like Justine Doyle and Hannah Cerino, are members, logged over 8,000 calls in the nights leading up to the election. Many students spent over 6 hours working phone banks, volunteering, and for these teens, the work doesn't stop just because the election is over. According to NHYM Fellow, Jordan King, they will continue to advocate for environmental reform, racial justice, and economic justice through direct actions, petitions, and phone calls. 
Even with the election over, and a winner projected, many teenagers still feel uneasy about the future of the country. Though 61% of students surveyed via The Launchpad Instagram stated that they are satisfied with the results, several believe that civil unrest is soon to come. The week of the election, "The Civil War" was trending on TikTok as teens questioned, albeit jokingly whether or not they would be required to complete assignments if a civil war started the next day. Additionally, many of the students mentioned above feared some form of retaliation from whichever party lost the election or a non-peaceful transition of power.  
Despite the uncertainty surrounding what is to come, Jawaria shared a message she hopes everyone takes to heart throughout the months and years ahead.
"I hope that people continue to care about the politics of this country and pay attention to what new administrations, both on the state and federal level, are doing, as well as use their voice to influence those actions and push their elected officials to create needed change. It will take all of us working together to create a country and government that we can all be proud of."
About the Writer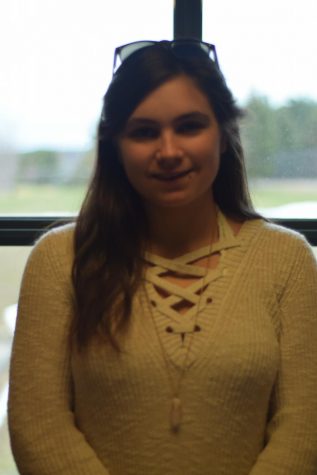 Aleksandra Carney, Staff Writer
Aleksandra Carney is an energetic student currently in her senior year at Pinkerton Academy. In addition to writing stories and managing the social media...