Walesa Urges for a New Era of Peace and Freedom of the Press
Former Polish President and Nobel Peace Prize Recipient Spoke at Franklin Pierce University about the Value of a Free Press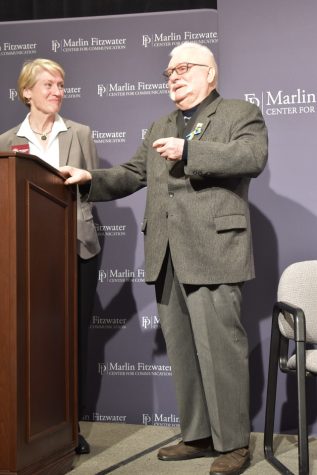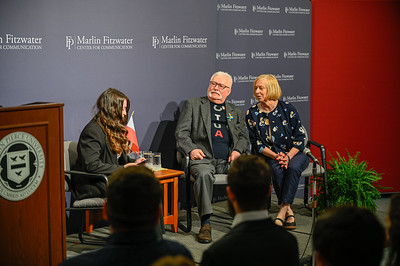 Former president of Poland and 1983 Nobel Peace Prize winner Lech Walesa attended Franklin Pierce University Monday, May 9, for a press conference moderated by Fitzwater Scholar Kaitlyn Acciardo on "The Value of a Free Press in a Democracy."
President Lech Walesa was a Polish labor union activist and former shipyard electrician who was awarded the Nobel Peace Prize in 1983 just after being released from internment for leading illegal protests against the government's treatment of workers and rising food prices. He was awarded for his leadership and sacrifice for workers' rights and trade unions.
The college invited journalism students from select high schools in New Hampshire to attend the conference from 11:00 to 11:30am. Ms. Acciardo asked questions from Franklin Pierce students as well as students from Bishop Guertin and Pinkerton Academy. President Walesa attended the conference with his speech interpreter.
Wearing a T-shirt underneath his blazer with the word constitution "kontytucja," Walesa explained that he wears this shirt to remind people that elections must be free, just and fair, and he opposes any violation to a constitution. President Walesa highlighted the importance of a free press and without it, dictators like Putin will rise to power. 
"I would claim that freedom of press is the most important, had there been freedom of the media we wouldn't have had Brezhnev, Stalin, and Putin," said Walesa, "because the free media would have told people what liberty is about, how beautiful living in freedom can be."
Walesa talked about how the world is shifting into a new era of intellectualism and globalization, with the exception of countries like China and Russia lagging behind and stuck in their old ways. The old era handels conflict with war, dictatorship and censorship. According to Walesa, the new era is one of peace and freedom where things are dealt with intellectually, not militaristically. 
"We have entered the stage in which one old era collapsed and a new one emmered on the horizon. Right now, we are faced by the challenges of the new era and how to implement it, but some countries like Russia or China have stayed behind in the old era," said Walesa. "That's why we have to do everything in order to restore the leadership position of the United States." 
Walesa believes it is in the United States' power to lead the world into the new era of peace and freedom in the press. There needs to be lots of debate and discussion as to what that will look like. He stressed that we cannot have that discussion without free media in all countries because citizens in places that heavily censor their media, like Russia, will not receive the message. 
 "What I see as the role of the United States is to lead the world to find the right solutions," Walesa said. "The old era is still defending itself in Russia right now, it wants to solve things throughout the world in the old manner using force. The new era is saying 'no that's not the way, we must not destroy anything, we must create, we must build, we must construct peacefully.'" 
Walesa explained how the old ways consist of war and physical violence, giving the Russia and Ukraine situation as an example, and how the new ways use intellectual solutions that will be more permanent than war.
 "Even today if Ukraine defeats Russia militarily, it will not be a solution and it will not bring peace to the world, because five to ten years from now a new Stalin, a new Putin will emerge." Said Walesa. 
President Walesa believes the world is in a transitory period.
"I would compare this to Putin trying to fight, boxing in a boxing ring, whereas we are on the same page playing chess," said Walesa. "And if we are on the same page playing two different games with totally different rules, we need to find the ways when we harmonize and play according to the same rules." 
President Walesa has bravely fought communism and censorship in Poland and believes that with the help of the United States, the world can enter into a new era of peace. 
"Once we overcome censorship and we do not allow it," said Walesa, "we will really achieve our goals."