Local Band's Dreams Turn To Reality
Second to Last Minute to Play Pizzastock 6.5 Battle of the Bands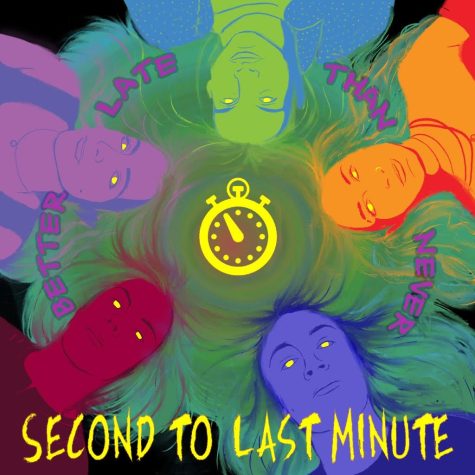 Second to Last Minute has established an amazing fanbase after releasing their debut EP Better Late Than Never just over two weeks ago. The band members are fairly young, consisting of juniors and seniors from Pinkerton Academy, Windham High School, and Londonderry High School.  Nevertheless, the talent from these teens never fails to leave an audience speechless. 
When speaking with the band members, Elliot Lempke, a senior at Pinkerton Academy, told me about the charity organization Pizzastock that the band works very closely with. 
"The aim of the harity is healing through music," said Lempke,  "which essentially means whatever you're going through, music is there by your side to help."
The band really wants to spread that message to their fans as much as possible. Emerson Carracedo, a senior at Windham high school said, "We try to carry out that message of building a community by fostering acceptance with our music"
The band pushes to make music a safe space for all. 
These busy students realize how stressful it is to make time for the band, especially when they are balancing rehearsal with school, extracurriculars, and all around making time for themselves. The band said this is definitely one of the most challenging struggles they have overcome.
Logan  Bower, a senior at Londonderry high school, expressed another struggle the band has faced. 
"After winning Pizzastock 5.5, we kind of became complacent with our music, and it wasn't until the writing of Echoes," said Bower,  "and getting serious about recording our EP that we really worked together to push each other and ourselves." 
Echoes is one of the band's four songs released on the EP. Alongside the song is Lovely Days, Half Past Three (The Blackheart Sessions), and Killian Daron's special project Apple Pie.
The favorite part of the EP process for the band was the time they spent  recording the EP. 
"It was so fun to have the actual experience of recording my voice in an actual recording studio," said Carracedo. "I also loved seeing everyone else record their part and watching the song come together. I was just blown away because it kind of hit me just how talented everyone is." 
It is clear this band still has moments that feel surreal. Bower talked about how much he enjoyed the recording process and hearing each band member's part of the songs. 
"It showed how important each individual is to the sound of  Second to Last Minute," said Bower. "That was a big moment since we don't get to really hear each other individually very often." 
Even though they just released their EP, this doesn't mean Second to Last Minute takes a break from doing what they love. When asked what new things they may have coming up in their career,  Lempke only shared that they have a couple things in store that must remain unannounced at this time. 
Their fans are eager for more music from the band and even more excited for upcoming shows. The band will compete in the Pizzastock 6.5 Battle of the Bands. Competition will be fierce because all winners of previous years are competing for the title.
Pizzastock will be held at the Tupelo Music Hall on January 8th, 2023. If interested, one can follow Second to Last Minute's instagram @secondtolastminute to stay up to date on new merchandise, music, and upcoming gigs.