Alum Returns to Substitute
Dominic Corsetto Shares Fond Memories
Pinkerton Academy takes a lot of pride in its alumni, as proven by its mascot, but apart from the famous ones, where do Pinkerton Academy graduates go?
Former student Dominic Corsetto, Class of 2013, returned to the Academy last September– nine years after he graduated– to be a substitute teacher. Corsetto fills in as a substitute between his clinical rotations. 
Corsetto currently studies at the University of New England College of Osteopathic Medicine in Biddeford, Maine. When he graduates, he'll be a Doctor of Osteopathic Medicine. 
Before he graduated in 2013, Corsetto was involved in many athletic teams. He played varsity ice hockey for three years, captain in his senior year, and he played on the lacrosse team for four years, three years on varsity. 
Corsetto explained how delightful it has been coming back to Pinkerton. 
"I was excited to come back to PA and see how it has evolved over the years since I left," said Corsetto. "I enjoy getting to teach and be a part of education as I plan to work in medical education."
Corsetto agrees that the school has grown since he was a student. He has been most impressed with the development of the Career and Technical Education (CTE) programs. Corsetto cited how many new classes he saw available and is impressed with the over seventy total courses available to students.
"I think [Pinkerton] prepared me for college, not so much medical school." Corsetto said. 
Coresetto explained that the course load and difficulty at Pinkerton was perfect for college preparation. He didn't know that he wanted to go into the medical field while in high school, and yet he was still ready for college when he graduated. He says there are excellent CTE classes for students who know they want to go into the field. 
Corsetto indicated that he has not run into any of his former teachers, but he was instead recognized by students who knew his senior brother by the same last name. 
One teacher Corsetto fondly remembers is Mr. James Fletcher.
"My favorite teacher was Mr. Fletcher who taught economics and was one of my hockey coaches," said Coresetto.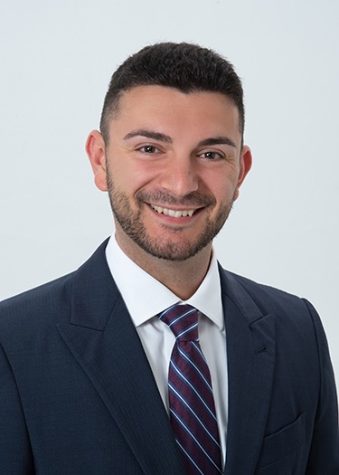 Since graduation, Corsetto has found a very successful career in medical school, most recently training with doctors in Boston. He's confident he would have never been in the position he is in today without the help of Pinkerton Academy.